"I have come so that they may have life and have it to the full" John 10:10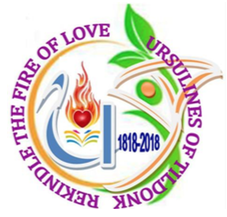 Jubilee Logo: Celebrating 200 years of the foundation of Ursuline Sisters of Tildonk


Bicentennial News

The 200th anniversary of the founding of the Ursuline Sisters of Tildonk began with a Eucharistic celebration on April 30, 2017 at St. John the Baptist Church in Tildonk, where their founder, Father John Lambertz, had been pastor for more than 50 years. Sr. Hildegard Verherstraeten, Provincial of the Province of Belgium, began with the words "Today our celebration marks the beginning of a year of renewal and study that will culminate on April 30, 2018, with the celebration of the foundation of our congregation of Tildonk Ursulines by our spiritual father, John Cornelius Martin Lambertz ".
Sister Bimla Minj OSU

In her opening speech, Sr. Bimla Minj, Congregational Leader, addressed the congregation offering an overview of the origins of the Ursulines founded by Father John Lambertz. "The Lord has done wonders in guiding, guarding and protecting our congregation by spreading from Tildonk to mission lands over the years in India, Canada, the United States, the Democratic Republic of Congo and British Guyana." We, as Ursulines of Haacht, were incorporated into the great family of the Ursulines began in the 16th century by St. Angela Merici.

As for the future, Sister Bimla said: "The flame of love invites us to rejoice and to celebrate the love of God and faithfulness in accordance with the theme of the Jubilee. Rekindle the fire of love.

A new representation of "priest" (Father John Lambertz) was unveiled at the Mass. It is an icon painted by a local woman, Gerda Smets. Before starting her work, she visited places related to Father Lambertz, read about his life and missionary work, reflected and contemplated on his life and spirituality.

Today, there are more than 1,000 members of the Congregation in six countries: Belgium, Canada, Congo, India, United States and Guyana. In addition to continuing in the traditional ministries of education, social services and health, the sisters are also active in the parish ministry, administrative positions, chaplaincy of the hospital and working with poor and senior citizens.